Join Home Care Plus in Celebrating National Senior Health and Fitness Day on May 31st, 2023.
The last Wednesday of May is National Senior Health and Fitness Day. May 31st is a day to come together and focus on getting seniors more active, healthy and independent. Preventative measures are always important in preserving health and well-being in seniors. Today is the perfect opportunity for seniors to take steps in staying active and maintaining healthy habits. This year, on the 30th anniversary of this holiday, many organizations and groups across the United States are participating by making changes in their daily activities to promote senior's health and fitness.
How can you participate? 
Healthy Eating
Eating healthy means eating a balanced diet with plenty of fruits, vegetables, lean proteins, whole grains and healthy fats. Also, try limiting sugar intake as much as possible. Here are some other tips for eating healthy and changing current lifestyles.
Make sure you eat breakfast every day.
Incorporate more fruits and vegetables.
Avoid processed foods. Processed foods are usually high in sugar, salt and unhealthy fats.
Get plenty of calcium. Good sources of calcium include milk, yogurt, cheese, and dark leafy greens.
Stay hydrated with plenty of water.
Be mindful of portion sizes.
Talk to your doctor about any vitamins or supplements you are taking.
There are also a variety of cookbooks for seniors that make healthy eating easy and fun. Meal delivery services may also be a good option to ensure healthy eating.
 Healthy Exercises for Seniors
Exercising regularly can help reduce your risk of developing chronic illness, improves balance and coordination, and can even help improve cognitive function.
Physical exercise is important for seniors as it can help them maintain their strength, mobility and independence. Here are some different types of physical exercise that seniors can participate in to increase their daily exercise goals.
Yoga
Aqua Aerobics
Walking
Fitness Class
Dancing
Gardening
And many others!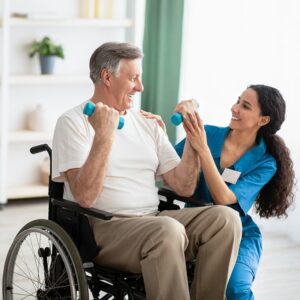 Cognitive exercise can help reduce stress, improve mood, independence, and even lead to better sleep quality. Here are some different types of cognitive exercise that seniors can participate in to improve overall health.
Play or listen to music
Arts and crafts
Puzzles
Board games
Card games
Write cards or letters to friends and family
Socializing with others
No matter how you choose to celebrate, try to incorporate a healthy eating and exercise routine into your lifestyle.
Latest posts by Home Care Plus Staff
(see all)